Admin mode and Admin panel
Admin mode
Admin mode allows administrators to view the intranet without any security restrictions in place. Administrators who have Admin mode turned on can see everything on the intranet, including pages that are private, posts that are set to be published in the future, and inactive user profiles.
An administrator with Admin mode turned off sees the intranet with their normal security permissions in place.
Turn Admin mode on or off
Click on your name or profile photo in the top right.
In the menu that opens, find Admin mode. The toggle next to it will show whether Admin mode is currently ON or OFF.



Click the toggle to turn Admin mode ON or OFF.
Admin mode icon
When Admin mode is turned on, your profile photo on the right of the App toolbar displays with a colored border and tool icon to remind you that Admin mode is on.

App toolbar with Admin mode OFF and ON

Admin panel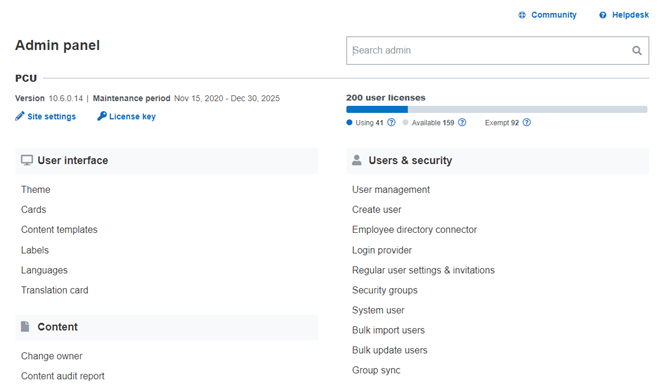 To get to the Admin panel, click on your name or profile photo on the top right of any page. In the menu that opens, click Admin panel. You do not need to have Admin mode turned on to access the Admin panel.

The Admin panel is your homepage for all things administrator - the place where administrators can make behind-the-scenes changes that affect the way the intranet looks and functions.
Admin panel search
If you're looking for a particular Admin page or feature, type it into the Admin search box. The search will bring up a dropdown list of Admin pages that match your query, and it will also highlight the titles of the Admin pages that match, for easy reference.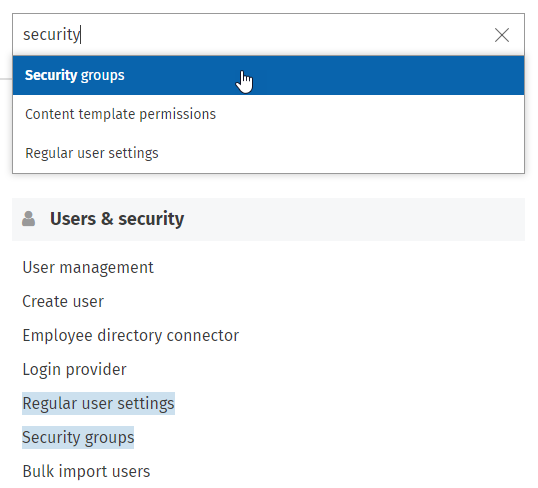 Learn more:
Discover our Administrator documentation with one of these topics: