How to Install/Update an Expiring SSL Certificate (in pfx format)
This documentation discusses how to import a new SSL certificate into your server and replace your expiring certificate for your site.
Install the new SSL certificate on web server
1) On the server, right click the new SSL certificate > Install PFX to open the Certificate Import Wizard
2) For "Store Location", choose "Local Machine", click Next
3) For the "File name", input the file path of your SSL certificate, click Next
4) Enter your password for the certificate. For the "Import options", check off the below settings and , click Next
-"Mark this key as exportable. "
-"Include all extended properties."
5) Select "Place all certificates in the following store" and choose the "Personal" folder. Click next
6) Click "Finish"
Replace SSL certificate in IIS
1) Open up IIS
2) Expand the Sites folder. Click on your site
3) Open up your site's bindings (right side)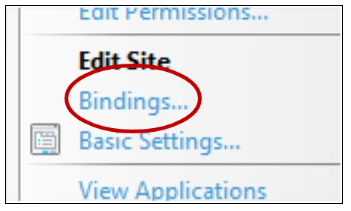 4) Edit your https binding
5) In the SSL certificate drop down, select the new certificate that you imported earlier



6) Click "Ok" and close the window
Test it out
Go to your site and confirm in the browser it's showing the new SSL certificate with the correct "Valid from" date range.