When you first log in to ThoughtFarmer Analytics you see the main dashboard, which contains a set of widgets by default. These widgets allow you to view and export data for specific analytic reports available elsewhere on the site. You can also view a report on a separate page instead of as a widget. To do that, expand the ThoughtFarmer section on the left-hand side menu and click on the report you want to display.

The ThoughtFarmer Analytics dashboard can be customized to show the reports you want to see, with the widgets ordered and displayed to your preference.
Move widgets
Widgets can be moved to various locations on the home page dashboard. To do this, hover your cursor over the title area of the widget, click on the widget and drag it to the new desired location.
Delete widgets
To delete a widget from the home page dashboard, click the "X" in the top right of the title area of the widget. Once you confirm deletion it will be removed from your homepage.
Add widgets
To add a widget from the home page dashboard you can:
Click the Add a widget... dashboards dropdown on top of your dashboard.
Choose the desired widget from the menu. As soon as you click it will be added to the homepage. Before clicking, you can also preview the widget by hovering your cursor on the widget name.
Modify the default location by moving the widget.
Modify the default view if desired.
Widget views
Each widget comes with a default view. Usually, the default view is the view best suited to that particular statistic. You can view the full size widget in the centre of your browser screen by selecting the
Maximize
icon in the top right of the widget pane. Additionally, there are a few options available in order to view the data in a different format altogether.
The basic view is the
simple table
view. To select this view, first click the
change visualization icon
and then
display simple table icon
in the bottom left of the widget or report. There are also 4 visual views can be selected using the icons within the
change visualization dropdown menu
. The visual views for the widget data are
vertical graph bar
,
pie chart
,
tag cloud
, and
insights
.
The following example shows the
Visits per duration
report for each of the available views.
Display simple table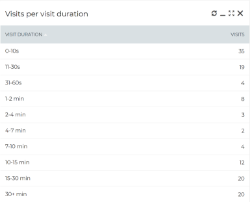 Vertical bar graph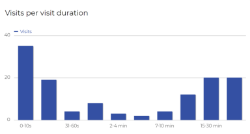 Pie chart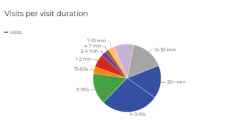 Tag cloud

Insights