Be an intranet Super User!
Want to know a bunch of sneaky ways to get things done fast in ThoughtFarmer? Or maybe you just don't like using your mouse? You've found the right page if you want to be a ThoughtFarmer Super User (we know you want to)!
Open the Search dropdown: CTRL + /
To open the nifty search dropdown at the top of the page, simply type CTRL+/ or ⌘+/. Search will drop down, with your cursor in the search field ready for you to type in your search term.



Navigate File or Image Preview: ← and →
When you're in Preview mode, whether you are previewing images or files, use your left and right arrow keys to navigate through a bunch of photos and files.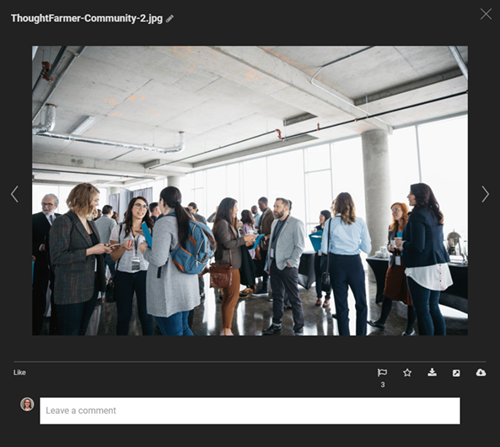 Click outside a pop-up window to close it
You can often close pop-up windows just by clicking outside of the window. However, if you have made changes in the window that you want to save, make sure to click the Save/Done or action button (eg. Change owner, Create folder).


Rich Text Editor shortcuts
Here are a few tricks for getting around in the Rich Text Editor when you are editing an intranet page.
Home: Jumps to the beginning of the line
CTRL+Home: Jumps to the beginning of the document
End: Jumps to the end of the line
CTRL+End: Jumps to the end of the document
SHIFT+ENTER: Adds a line break. We at ThoughtFarmer have found this to be an extraordinarily useful shortcut to know. It's useful if, say, you want to insert an image in a numbered or bulleted list, without having a number or bullet on the left of the image!



Did you notice that? We just used SHIFT+ENTER to help us insert an image in a bulleted list! Sneaky!
CTRL+Z: Undo
CTRL+Y: Redo
CTRL+B: Applies bold formatting to text
CTRL+I: Applies italics formatting to text
CTRL+U: Applies underline formatting to text
Have you found another shortcut or technique that you find particularly useful for getting around your ThoughtFarmer intranet? Share it on our Community Site's Tips & Tricks Forum on the ThoughtFarmer Community site!