Share a page with all the members of a group
Did you just create or discover an intranet page that will be useful to your whole project team or office location members? You can share a page to a group that you belong to, and bring it to all group members' attention in one action.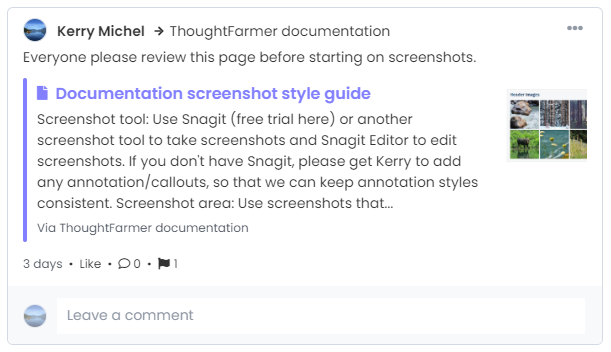 When you share a page, it shows in the Activity on the group page, and also in the homepage Activity of group members. The Share Page activity item shows the name and photo of the person who shared the page and the group they shared it with. The page title displays along with a page excerpt or summary if one exists, and any message you have added to the page share.
Group members who follow the group page may receive in-app and email notifications of the page share, depending on their profile settings.
You can also choose to share a page with Everyone (all users on your intranet) from the Share to group window, just keep in mind how many people you'll be sending it to!
How to Share a page with a group
Go to the page you want to share.
Click the Share icon (a box with a curved arrow coming out of it) in the Social page buttons in the page header.




In the dropdown menu that opens, click Share to group. The Share to a group pop-up window will appear.



If you wish, type a message to go with your page share in the field beside your profile photo. You can also share the page without adding a message.
Click on Select a group, and in the dropdown menu click on the name of the group that you want to share the page with, or click on Everyone to share the page with everyone on the intranet.
Click the Share button.