ThoughtFarmer is responsive
ThoughtFarmer intranets are responsive and therefore adapt to the screen resolution or size of the device they are viewed on. The components of the intranet page automatically rearrange to be optimized for use on a desktop, tablet or mobile device. Buttons, icons and content will be arranged differently on tablets and mobile devices, but the majority of actions that can be performed on the intranet from a desktop can also be done from a tablet or mobile device browser.
Using the intranet on a mobile web browser is different from using the ThoughtFarmer native mobile app. This page discusses mobile web browser usage. The ThoughtFarmer mobile app, available starting with TF version 10, is a full-featured app that offers the same capabilities found on ThoughtFarmer web. To learn more, see Mobile app features.

Desktop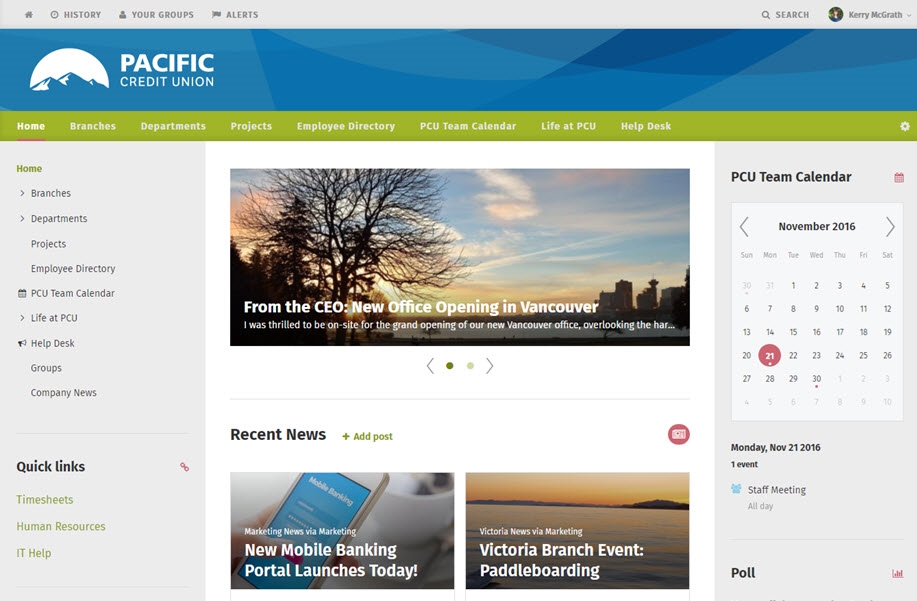 When viewing a page with three columns on a tablet or mobile device, content that is in the right column when viewed on a desktop will appear below the content from the center column.

Tablet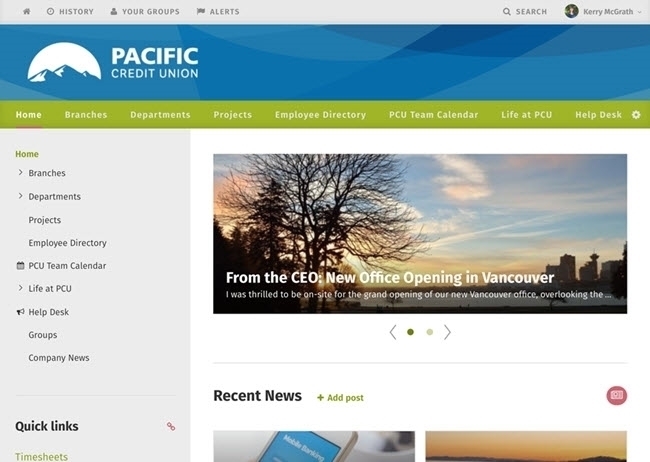 When viewing the intranet on a tablet or mobile device, the left column and main navigation may be hidden to make room for the rest of the page content. The left column navigation can then be accessed by tapping the hamburger icon on the left of the top bar. The left column can be minimized by tapping the X that appears in place of the hamburger icon on the left of the top bar.

Mobile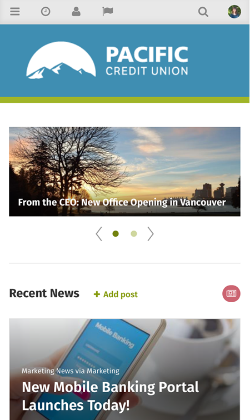 Currently supported browsers are Chrome, Safari and Windows Phone Browser.
Mobile web browser limitations
While the majority of ThoughtFarmer intranet capability is now available using mobile device web browsers, there are a few things that cannot currently be done on mobile devices:
Use Template Setup to set up Cards or customize page template in edit page
Use the Desktop Connector to open and edit files
Network configuration for ThoughtFarmer mobile
Getting ready to access ThoughtFarmer through web browsers on mobile devices requires different steps depending on how you currently access your intranet:
You currently can access ThoughtFarmer from anywhere on the internet
No additional setup required. If you haven't already done so, you may want to consider purchasing and installing an SSL certificate so all traffic is encrypted.


You currently can access ThoughtFarmer only from your internal network
If your intranet is not currently available over a regular internet connection then you will need to make changes to the way your intranet is accessed in order to utilize the mobile version. There are 4 ways you can accomplish this, each with their own benefits and concerns. The following instructions can be found
on our ThoughtFarmer Community site
:
Preparing your network for one of these options not only allows for mobile access but general access for your employees from home or while on the road. Our experience has shown that adoption is greatly increased when users can access the intranet when outside the office.