How to create a custom introduction for a News post
Use these instructions to add a customized introductory paragraph for a news story. This custom intro will show up in News sections that show content from the Source to which you've added the story. You'll add your custom News story intro in the Summary section of edit page.

News: List view




News: Grid view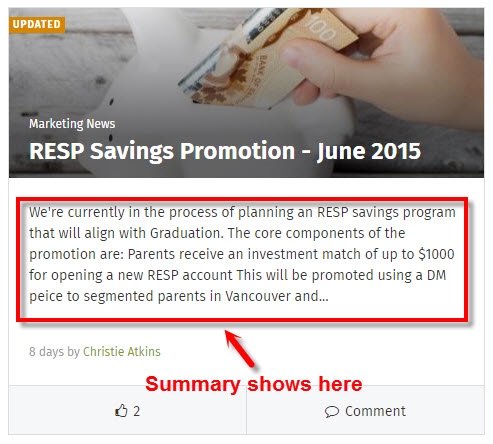 When you add a new News item (post) to a News page, the intranet automatically pulls the first few hundred characters of your post and displays that as the post intro on the main News page. With these instructions you can replace the automatically generated post summary with a custom written introduction.
Edit page and click "Add summary"
Navigate to the specific news post and click the Edit button (pencil icon) to go into edit mode.



Click Add summary under Publishing options on the right. The Summary pop-up window will appear.



Type your custom introduction in the Summary window.
Click Done.
Click Save. The custom introduction will now show on the main news page to which you added the post.