Calendar subscription tokens
When a user imports a ThoughtFarmer calendar into their Outlook, OSX Calendar or Google Calendar application, a token is generated to allow them to access those events. To manage these tokens, go to the Admin panel: Advanced section > Calendar subscription tokens page.
The Calendar subscription tokens page lists all of the tokens that have been generated, including information about who generated the token, what calendar page it is for, when the token was created and when it was last accessed. The list can be sorted by calendar title, user, created date or last accessed date. You can narrow the list by searching using the search box at the top of the list.



Each token can be turned off, which will prevent the user from accessing the calendar with that token. If a token is turned off, it can be turned on again using the ON/OFF toggle on the right of the token.

Tokens can be deleted by selecting the checkbox to the left of the token and then clicking Delete # at the top of the list of tokens. Click Confirm in the Delete token window that appears to complete the deletion. When someone leaves the company, deleting any calendar tokens belonging to that user will prevent them from continuing to access calendars on your intranet.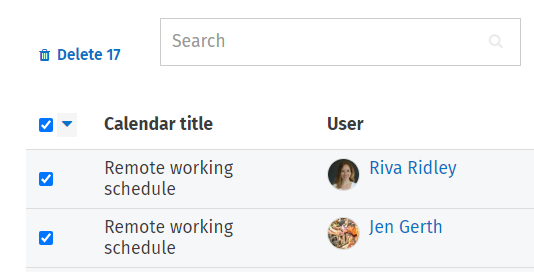 By default, if there are more than 25 tokens, they will be displayed on multiple pages, and you can use arrows on the top right to navigate through the pages. You can either delete all tokens or delete the current page of tokens. Click the down arrow beside the checkbox on the top left and click Select current page or Select all from the dropdown menu. Your selection will be applied and the Delete action updates to show the number of tokens that are selected for deletion.

After a token has been deleted, a user can resubscribe to the calendar and generate a new token from the calendar page.