Insert link to external website
How to insert a link to an external website
Linking to an external website is very similar to linking to an intranet page.
Click the Edit button (pencil icon) in the page header to go into edit mode.
Use your cursor to highlight the text you want to make into a link. Or just set your cursor where you want to insert the link.

Example: "I just found tons of great instructions on the ThoughtFarmer website."

Click the Insert link button to bring up the link pop-up window.





In the pop-up window, click on the External location tab. Copy the URL (web address) of the page you want to link to and paste the URL into the Link Path box.

Note: Below the Link Path box is an option to Show external location with [Intranet name] navigation. If you check this box, when the link is clicked, the external website appears as though it is within the intranet. The Application Toolbar, intranet name, Main Navigation Bar, and search options still appear at the top. This makes it easy to navigate back to pages in your intranet after visiting an external website. Some websites block this feature, and will not display within the navigation. If you leave the box unchecked, when the link is clicked, the browser leaves the intranet site and displays only the external website.

The Link To box at the bottom of the link window contains the text that will display as the link. Click in the Link To box and type new text if you want to add or change the link text.
Click Insert in the lower right corner of the search box. The pop-up window will close and you'll see your text has changed color (indicating a link).
Continue editing or click Save at the top of the page.
External website with intranet navigation links:
(How the external website will appear when
Show external location with [Intranet name] navigation
checkbox is selected.)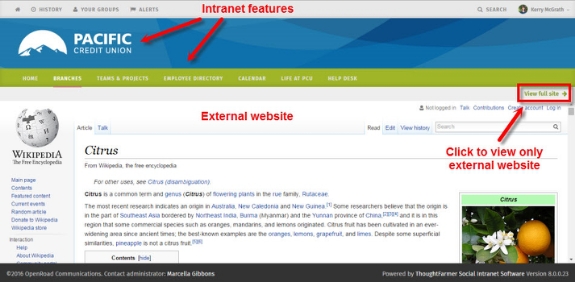 Learn more