Certain background activities such as user management tasks, user sync tasks, and auto archiving are recorded in activity cards and alerts as being performed by the system user. The system user account does not belong to a real person and no one can log in to the intranet as the system user. There is no profile page for the system user account, so the system user name and photo are not clickable in activity or alerts.
Notification of activity performed by system user: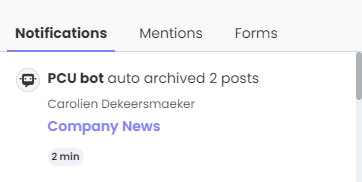 You can customize the name and image that will be shown in activity for tasks performed by the system user.
System user default name and profile photo
The default name of the system user is the name of the intranet, followed by Bot. For example, if your intranet name is "Sparky", the system user name will be "Sparky Bot". System user actions will display in the activity like this: "Sparky bot created Sonja Rahim's profile."

The minimum recommended size for the system user profile photo is 500 x 500 pixels. Accepted photo formats are gif, jpg, and png. There is no option to crop the uploaded profile photo for the system user, so upload a square image for the best looking profile image.
To change the default name and photo:
Go to the ThoughtFarmer Admin panel: Users & security section > System user page.
Type the new name for the system user in the Name field.
Under Profile photo, click Replace to replace the default system user profile photo.
Drag and drop your image file into the Replace image pop-up window, or click Browse to find and upload your file. The new image will show when it has uploaded.
Click Save at the bottom.