Security-aware cards are governed by security permissions, and only display for security groups or users that have been given permission to view them. Security-aware cards target a specific audience, allowing you to display different information to different users on the same page. As an example, this allows for more customization of the homepage for different departments or locations within an organization.
As of version 10.9, two types of cards can be made security-aware, quick links cards and rich text cards. (Some customers may be using a custom security-aware rich text card already, but now a built-in security-aware rich text card is available.)
Security-aware cards have two extra fields when you set them up:
The optional Card name field allows page editors to add a descriptive name to the card to differentiate it from other cards of the same type. The Card name field only displays for editors in the update cards window, it does not display to users viewing the page. The Title field will display to users at the top of the card.
Card names differentiate two security-aware quick links cards in the update cards window: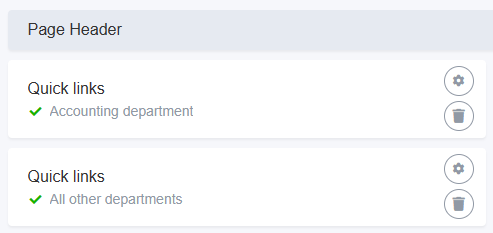 The Restrict view permissions checkbox allows the card to be security-aware. If you want a quick links or rich text card to be visible to a restricted group of users, select this checkbox. Then type in the field below to search for a security group or user, and select them when they appear in the dropdown menu. Security groups and users that you add here will be able to view the card. Repeat to add more security groups or users.