Set up a Photo collection card to share experiences and add visual interest
A Photo collection card adds visual interest to your page by engaging viewers with a gallery of thumbnail images. Users can click on the thumbnails to view larger versions of the photos or click on the Photo collection title to go to the Photo Gallery page.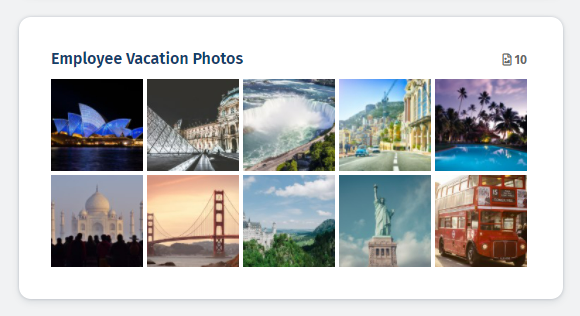 In edit page, click Set up cards under Content type & template on the right. The Update cards window will open.



Click Modify template, click the plus sign in the column you want to add it in, and click on Photo collection in the Cards menu on the right.

Note: If you don't see the Modify template option, and there is no Photo collection card already present in the template, talk to your intranet administrator about making the Photo collection card available for you to use.

Click Set up on the Photo collection card to select your options.



In the Photo collection pop-up window, start typing the name of the photo gallery you want to add in the Find a photo gallery box.



Click on the name of the photo gallery in the dropdown menu that appears.



Click on the current Sort by to open the menu. The photos will by default be sorted in the same order as the sort on the gallery page. Select the sort option that you want for the photos in the Card:

Curated: sorts photos based on the curated order set by a page editor on the photo gallery page
Popular: sorts photos by popularity (determined by comments, likes, views and recent activity)
Date uploaded (newest): sorts photos from newest to oldest

Click Update on the right of the Photo collection setup window.
Click Done at the bottom of the Update cards window.
Click Save. You will now see the Photo collection card on the page.
The size and layout of your Photo collection card will depend on the layout of your page and the size of the device it is viewed on.