The Event card lets you display event details for an existing event as a card on another intranet page.
The event details displayed can include event title, parent calendar, type of event, date, time, location, description and a link to add the event to an external calendar. The event title and parent calendar link to the event page and parent calendar page respectively. If the event has event registration enabled, users can RSVP to the event from the Event card, and see when event registration closes. To learn more, see Event registration.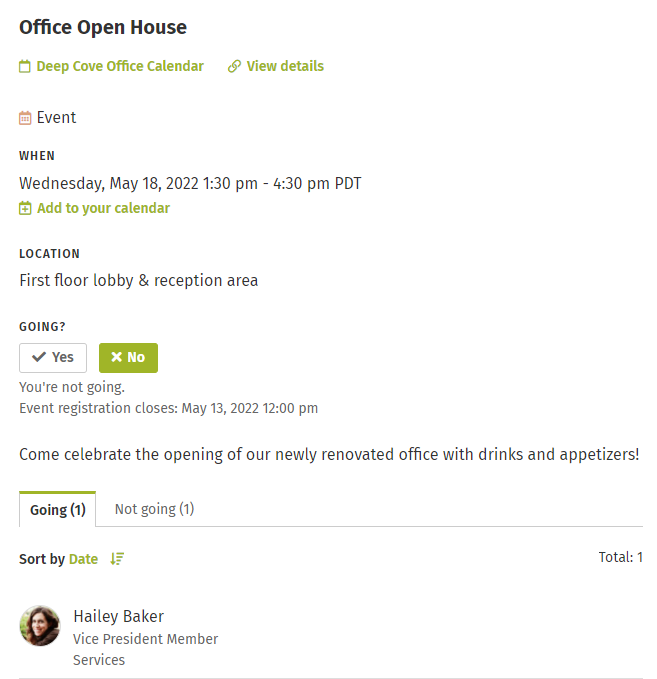 An event can be advertised on a News page/card by creating a News post and adding an Event card to it. When setting up the Event card, you might choose to deselect the checkbox "Display the event title", and use the event title as your News post page title instead.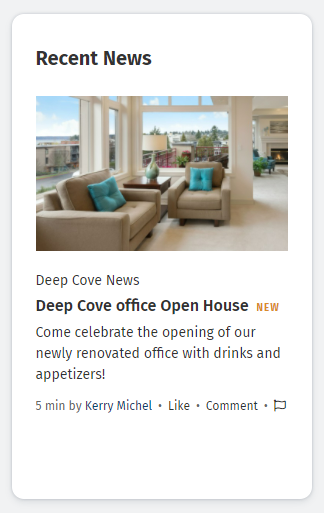 If a user does not have view permissions to an event page, but does have view permissions to a page with the corresponding Event card on it, the user will not be able to see the Event card.
Set up an Event card
The event must already exist as a calendar event page before you can set up an Event Card.
In edit mode, click Set up cards under Content type & template on the right. The Update cards window will open.




Click Modify template, click the plus sign in the column you want to add it in, and click on Event in the Cards menu on the right.




Note: If you don't see the Modify template option, and there is no Event card already present in the template, talk to your intranet administrator about making the Event card available for you to use.

Click Set up on the Event card to select your options.
Click in the Find an event text box, start typing the name of the event, and click on it in the dropdown menu when it appears.
Select the checkbox for the optional details that you want to appear in the Event card:

Display the event title
Display the event description
Display the attendees

Click Update.
Click Done at the bottom of the Update cards window.
Click Save on the top right.
The size and scope of the Event card will depend on the layout of the page and the size of the device it is viewed on.