Set up a Mini calendar card for quick reference to upcoming events
A Mini calendar card gives people an easy way of referencing past, present and future events, without having to visit the calendar page itself. In order to use a Mini calendar card, the calendar you want to display in the card must already exist somewhere on the intranet.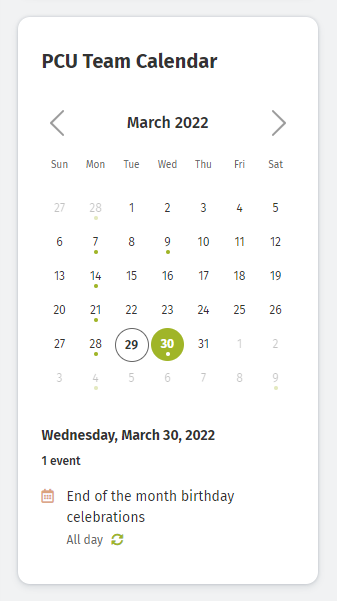 In edit mode, click Set up cards under Content type & template on the right. The Update cards window will open.



Click Modify template, click the plus sign in the column you want to add it in, and click on Mini calendar in the Cards menu on the right.





Note: If you don't see the Modify template option, and there is no Mini calendar card already present in the template, talk to your intranet administrator about making the Mini calendar card available for you to use.

Click Set up on the Mini calendar card to select your options.



In the Mini calendar pop-up window, start typing the name of the calendar you want to add in the Add calendar box.



Click on the name of the calendar in the dropdown menu that appears.
Click Update on the right of the Mini calendar setup window.
Click Done at the bottom of the Update cards window.
Click Save at the top right.
The default number of events shown in a Mini calendar card for a given date is 5. This can be changed from the config setting miniCalendar.numEventsToShow from the Admin panel: Advanced section > Configuration settings page.
The size and layout of your Mini calendar card will depend on the layout of your page and the size of the device it is viewed on.