Set up a Quick links card for easy navigation to internal or external pages and applications
Add useful links for your team to your homepage or group page, or add links to material that is closely related to a page's content. You can link to intranet pages, external webpages (perhaps often used applications) and email addresses.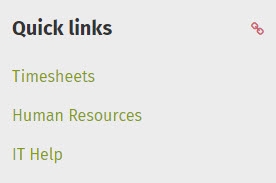 In edit mode, click Set up cards under Content type & template on the right. The Update cards window will open.



Click Modify template, click the plus sign in the column you want to add it in, and click on Quick links in the Cards menu on the right.

Note: If you don't see the Modify template option, and there is no Quick links card already present in the template, talk to your intranet administrator about making the Quick links card available for you to use.

Click Set up on the Quick links card to select your options.



(optional) If you wish to edit the heading that appears on the Quick links card, click the edit icon (a pencil) beside Quick links. Type a new heading in the text box that appears and click Save on the right.






In the Name text box, type the link name that you want to show.
(optional) In the Help Text text box, provide more information about the link for your users. (When you enter help text, it inserts a help icon next to the Quick Link, and the help text appears when a user hovers over the icon.)
Click on the Select link type dropdown and select the type of link you want from the three options:

(Your intranet name): link to a page on your intranet,
External location: link to an external website page,
Email: Create a mail-to link to an email address.




Depending on the type of link you selected above, add the corresponding information in the box below the link type:

Start typing the name of the intranet page you want to link to and click on it in the menu that appears,
Type the URL of the website you want to link to,
Type the email address you want to link to.




Click Add link.
To add more links, click the Add button on the left, and repeat steps 3 to 6.
Click Done on the right of the Quick links window.
Click Done at the bottom of the Update cards window.
Click Save at the top right.
The size and layout of the Quick links card will depend on the layout of the page and the size of the device it is viewed on.