Set up a Rich text card to include a variety of content on the page
Adding content to a Rich text card is just like using the Rich Text Editor that you use when editing a page on the intranet. Rich text cards can contain localized content for each of the enabled languages on your intranet.
Rich text cards can be used for supplemental information, images, links, widgets, and more. A Rich text card at the top of the center column on the homepage can display information that you want to be highly visible.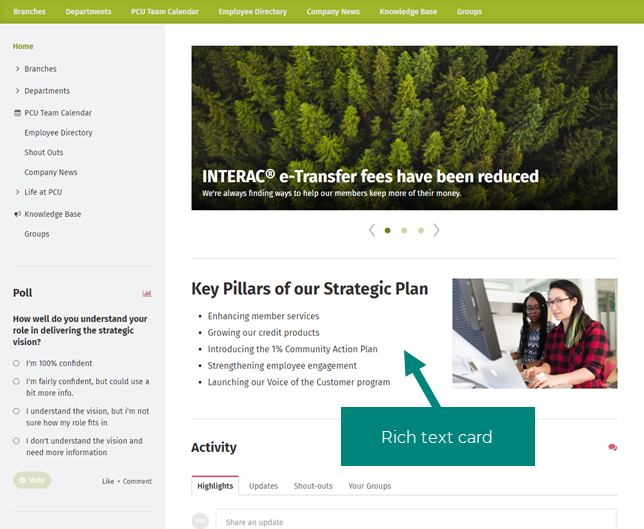 In edit mode, click Set up cards under Content type & template on the right. The Update cards window will open.




Click Modify template, click the plus sign in the column you want to add it in, and click on Rich text in the cards menu on the right.

Note: If you don't see the Modify template option, and there is no Rich text card already present in the template, talk to your intranet administrator about making the Rich text card available for you to use.

Click Set up on the Rich text card to select your options.



(optional) If you have multiple Rich text cards on the same page and want to differentiate between them in edit mode, add a Card name description that only appears to editors viewing the update cards window.




In the Rich text pop-up window, add whatever content you want to display in the Rich text card.




(optional) If you want the Rich text card to be security-aware, click the checkbox Restrict view permissions and select users and security groups who can view the card. To learn more, see Security-aware cards.
Click Done at the bottom of the Rich text pop-up window.
Click Done at the bottom of the Update cards window.
Click Save/Publish at the top right.
The size and layout of the Rich text card will depend on the layout of the page and the size of the device it is viewed on.