Set up a Poll Card to get instant feedback from intranet users
A Poll Card is a way to engage users in your page or homepage and let them express their opinions and give you useful feedback. When you add a Poll Card, you can choose to have it display the most current poll created on the intranet, or you can choose to display any poll existing on the intranet.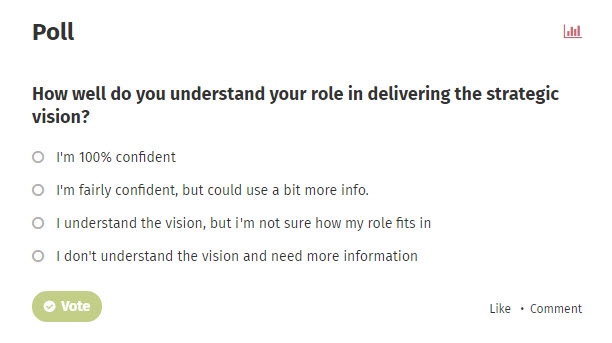 Once a user votes on a poll, the Poll Card displays the poll results.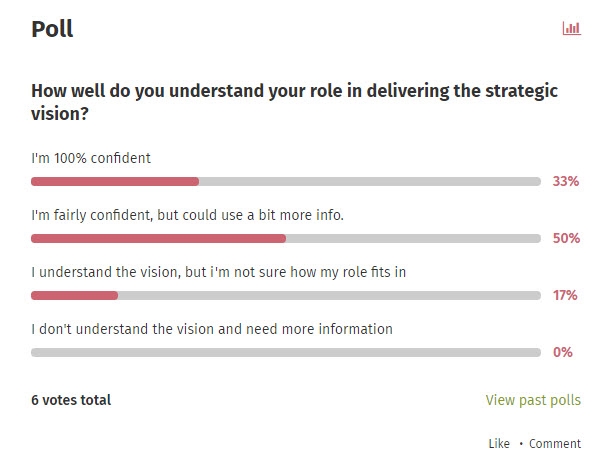 In edit mode, click Set up cards under Content type & template on the right.




Click Modify template, click the plus sign in the column you want to add it in, and click on Polls in the Cards menu on the right.

Note: If you don't see the Modify template option, and there is no Poll card already present in the template, talk to your intranet administrator about making the Poll card available for you to use.

Click Set up or In use on the Polls Card to select your options.




In the Update cards window, find the Poll Card section and click Set up or In use below it (or the gear icon on the right of it).
By default, the radio button Specify the poll is selected. You can either choose a specific poll to display, or select the radio button Latest poll to always have the most recently created poll on the intranet displayed. The Poll Card will not display on the page until either a specific poll is selected, or the Latest poll radio button is selected. If you want a specific poll to appear, select the radio button Specify the poll, and follow steps 5 and 6.




In the Find a poll text box, start typing the name of the poll you want to add.
Click on the name of the poll in the dropdown menu that appears.
Click Done on the right of the Poll setup window.
Click Done at the bottom of the Update cards window.
Click Save at the top right.
The size and layout of your Poll Card will depend on the layout of your page and the size of the device it is viewed on.