Use the Theme admin page to customize the look and feel of your ThoughtFarmer Intranet with logos, icons, images, colors and fonts. The Theme page is on the Admin panel, in the User interface section.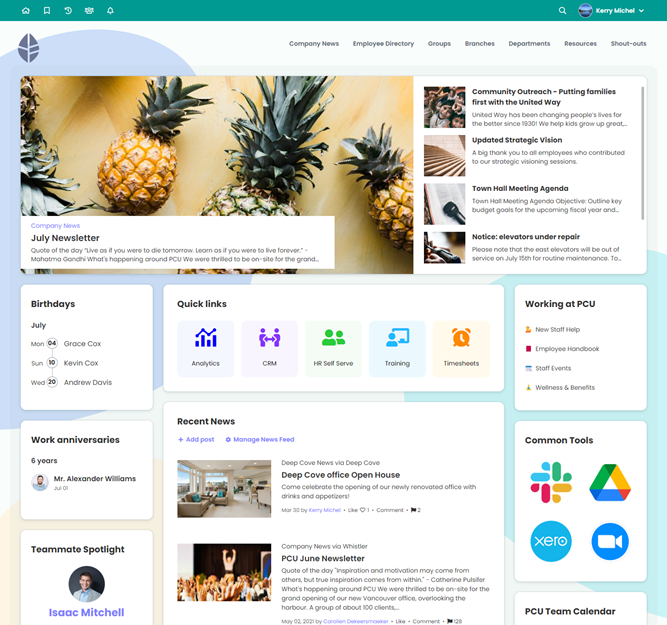 Create and store multiple themes
Multiple themes can be created and stored on the Theme page, but only one theme at a time is active on the intranet. This allows you to make edits to inactive themes and get the changes just right before making them live on the intranet. Multiple seasonal, holiday, or promotional themes can be created and stored on the Theme page for future or repeated use.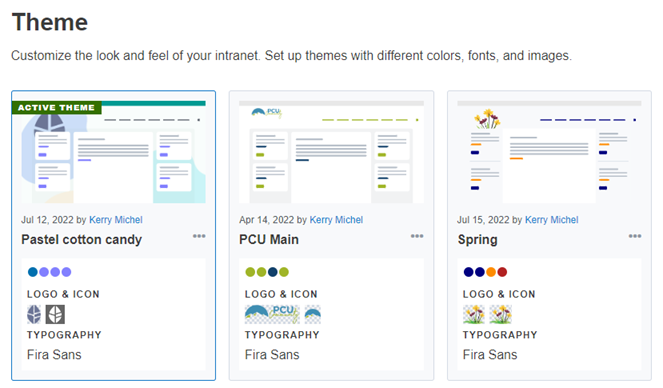 Instant previews
When editing a theme, there are five tabs for making changes to the major components of the user interface - Logos, Navigation and header, Colors, Typography and Component style. As you upload image files and select other options, instant previews show what that theme element will look like based on your configuration. If you make another change, the preview will immediately reflect that. To learn more, see Add or edit a theme.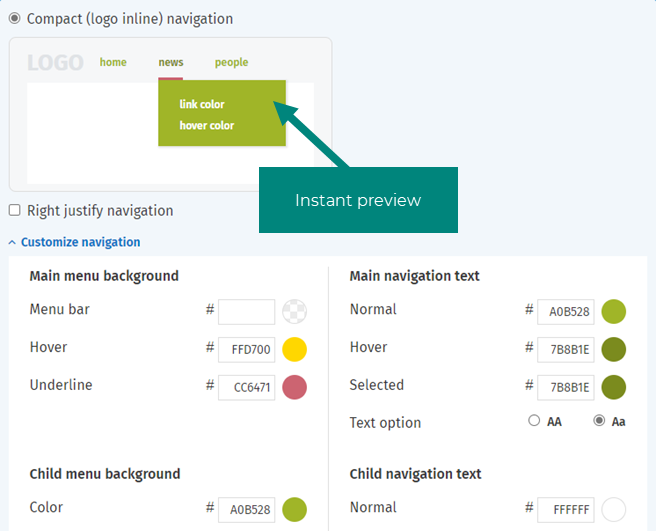 It is also possible to view a site-wide Theme preview by clicking the Preview button on the Theme overview page.
Custom elements
A final tab allows you to add custom HTML, CSS, or JavaScript to every ThoughtFarmer page. This allows for customizations well beyond the scope of the regular Theme options. To learn more, see Custom HTML, CSS and JavaScript.
View activity on themes
Each theme has a record of basic activity on the theme, including who created, edited or made the theme active or inactive, and when the changes took place. To view this activity, click on an individual theme, click the down arrow on the top right to open the controls, and click View activity.
Note that while themes track basic activity, they do not have version control like intranet pages do. There is no ability to revert to a previous version of the theme. But it is easy to create a new theme if you want to experiment with different settings before making the changes active on your intranet.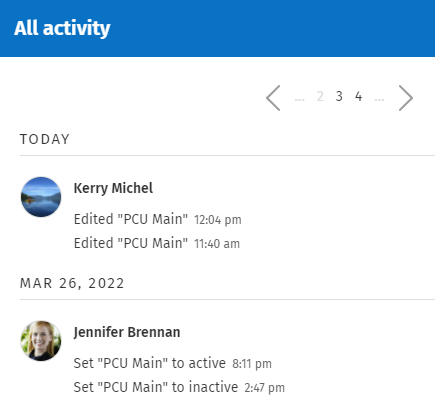 Export and import themes
You can export Themes that you have created to .theme files, and import new Themes. This is useful if you have both staging and production instances of your intranet, and you want to create and edit a theme on your staging intranet before moving it to the production intranet. On the ThoughtFarmer Community site, you can also import one of ThoughtFarmer's starter themes to your intranet to quickly give it some style.
Learn more: