The Import and Export actions allow you to capture all of the settings you have chosen for your intranet's theme, and easily save them for later use, or import them all at once on to your intranet. You can use the import theme feature to try out one of the ThoughtFarmer's Starter themes (which you can find on our ThoughtFarmer Community Site) and then customize it further.
The import/export feature is also useful for moving your theme from your staging to your production instance of ThoughtFarmer. You may want to test and tweak an updated or seasonal theme on your staging instance, and then transfer it to your production instance when you are happy with it.
Import a theme
Importing a theme will not affect the current active theme on the intranet. The imported theme will be added to the theme page as an inactive theme, available to edit or make active at a later time.
Go to the Admin panel: User interface section > Theme page.
Click Import on the top right.
Drag and drop, or click Browse to find, select, and open the theme file you want to import.
Click the Upload button.
The imported theme will appear as an inactive theme option on the theme page.
Export a theme
Go to the Admin panel: User interface section > Theme page.
Click on the three dots to the right of the name of the theme that you want to export.
Click Export in the dropdown menu that appears.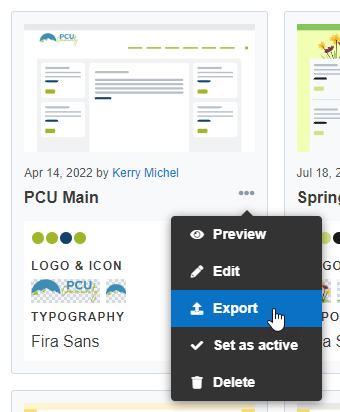 ​​The Theme will be saved as a .theme file in your Downloads folder. The filename will include the theme name and the date and time of the export. You may wish to rename the file and move it to another folder for easy access.
You can also access the Export action while editing the theme by clicking the down arrow on the top right to open the theme controls. Make sure you save any changes you make before exporting the theme.