Set up a Google Drive Card to access files
ThoughtFarmer allows for integration with cloud drives such as Google Drive. See cloud drive integrations to learn about the additional features.
A Google Drive Card allows you to embed files on your Google Drive into intranet pages. Users can view the file on the page, and if the file owner has granted permission, they can click on the file title to open it in Google Drive and make changes to it.
The Google Drive Card is a standard Card that comes with ThoughtFarmer, however it must be enabled by an administrator. See Google Drive integration for administrator instructions on how to enable Google Drive integration.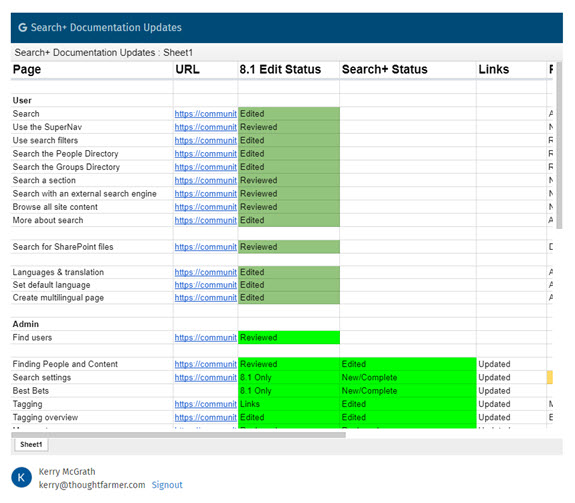 Once the Google Drive Card is enabled on your intranet, here's how to set it up:
In edit mode, click Set up cards under Content type & template on the right.



Click Modify template, click the plus sign in the column you want to add it in, and click on Google Drive in the Cards menu on the right.

Note: If you don't see the Modify template option, and there is no Google Drive Card already present in the template, talk to your intranet administrator about making the Google Drive card available for you to use.

Click Set up on the Google Drive Card (or the gear icon on the right of it).
If you are signed in to your Google account, you will see a list of files on your drive to select from. If you are not signed in to your Google account, a message will prompt you to Login to Google Drive first. Only files that have been shared with others can be embedded in the Google Drive Card. Select the radio button beside the file you want to select.
Click Update at the bottom of the list of files.
Click Done at the bottom of the Update Cards window.
Click Save at the top right.
Users must have the file shared with them in Google Drive in order to view it in a ThoughtFarmer Google Drive Card. Users who have been given permission to edit the file in Google Drive can click on the file title in the Google Drive Card to open the file for editing in a new tab.
The size and scope of your Google Drive Card will depend on the layout of your page and the size of the device it is viewed on.